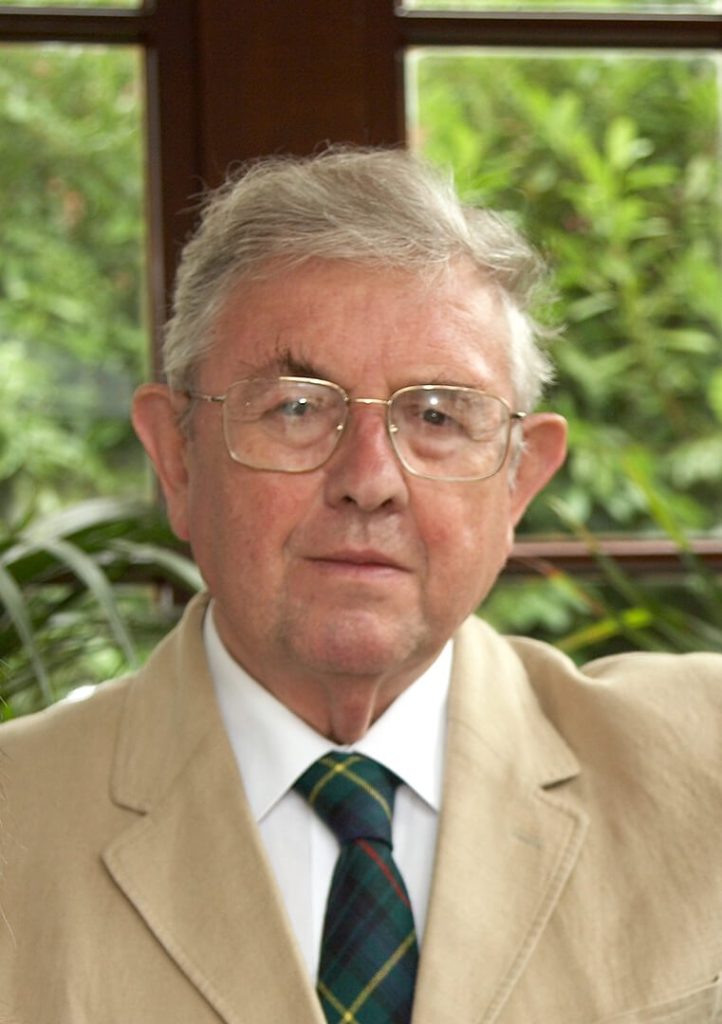 Christopher John (Ronnie) Falconer FRIAI, RIBA, ARB, CIArb – Founding Partner of C.J. Falconer & Associates Architects – passed away at his home, surrounded by his loving family, on Thursday the 21st of September, 2017. Ronnie is survived by his loving wife Betty, daughters Deirdre & Juneanne, sons Gary, Alan, David, Daughters-in-Law, Son-in-Law, ten grandchildren, four great grandchildren, his aunt Angela, his sister Helen, brother Jim, and extended family members – and is pre-deceased by sister Pam. A celebration of his life was held in the Sacred Heart Church, the Folly, Waterford, at 2:00 p.m., on Sunday the 24th of September, 2017. Requiem Mass was celebrated by Fr. Gerry Chestnut P.P., Fr. Liam Power P.P., Fr. David Keating, and Most Reverend William Lee (Bishop Emeritus), and included celebration in songs, readings, and offertory, by family members.
A very large attendance consisted of a wide circle of family, friends, and colleagues, from the four corners of Ireland, and every aspect of the community.
Ronnie was born in the Manor, Waterford, on the 17th of July, 1936, and lived in 21 Henry's St.. The son of the late Kathleen (Fitzgerald) and James Falconer, Undertaker, and grandson of the late Christy Falconer of the famed Waterford & Tramore Railway. A similar larger than life figure, Ronnie himself would carry on the family tradition of relaying humorous stories and events that James & Christy, and indeed his brother Jim, are known for.
As a young child, the family moved to 8 John's St., off the Apple Market, and would have experienced the weekly tradition of market-trading, by the Piltown Applemen, and Shawlee women, selling dilisk, cockles, and fish.
Ronnie, having completed his primary school education in the Sisters of Charity in Parnell St., and De La Salle St. Declan's Primary School, Water St., was then awarded a scholarship for his secondary education at De La Salle College, Newtown. And so, began a lifelong relationship with De La Salle, and subsequently the development of the DLS Past Pupil Union. He was a member of the DLS '49ers, as they were known, and his classmates remained lifelong friends. In an ironic turn of events, Ronnie subsequently bought St. Patrick's House, Newtown Rd. – his old school building – and it was there that he set up the current Architectural Practice which continues to flourish: C.J. Falconer & Associates. His pride in this achievement was evident to all.
His love of drawing was developed through teaching, and he always spoke about his art teacher, Robert Burke in the Waterford Central Technical Institute, Parnell St..
His love of reading commenced with books which he would read as a child in his grandparents' home – 'Cassels' Books of Knowledge' – and it produced an appetite in Ronnie for reading, for absorbing knowledge, and the development of a deep interest in history that never waned.
It could be said that Ronnie inherited the building genes of his two uncles – one a ship builder and the other a railway carpenter; and at a young age Ronnie decided that he would pursue architecture. Balancing a career and the financial care of a young family, he took the route of external study, and sat external examinations in London & Edinburgh. He successfully qualified as an Architect and a Chartered Member of the Royal Institute of British Architects in 1969 and subsequently became a Fellow of the Royal Institute of Irish Architects & a Building Arbitrator – something he was personally immensely proud of.
In 1957 and as part of his architectural studies, and far before it became the trendy undertaking of modern students, Ronnie hitchhiked 3,000 miles across Europe (with his friend Eamonn Hodge), reviewing buildings along the way, with the 'Architect's Bible' of Bannister Fletcher, tucked under his arm. During his travels, he contacted family at home to keep them appraised of his adventures, by way of Radio Luxemburg (the premier pirate radio station of its time).
Ronnie was always full of confidence, and seized the opportunity to become an Architect's Apprentice, at no pay for the first year, with the late C. Harvey Jacob, Architect FRIAI RIBA, and developed a wonderful working relationship, and eventually became a business partner of C. Harvey Jacob & Associates, prior to establishing up his own practice, in 1986 – which recently celebrated 31 years in business.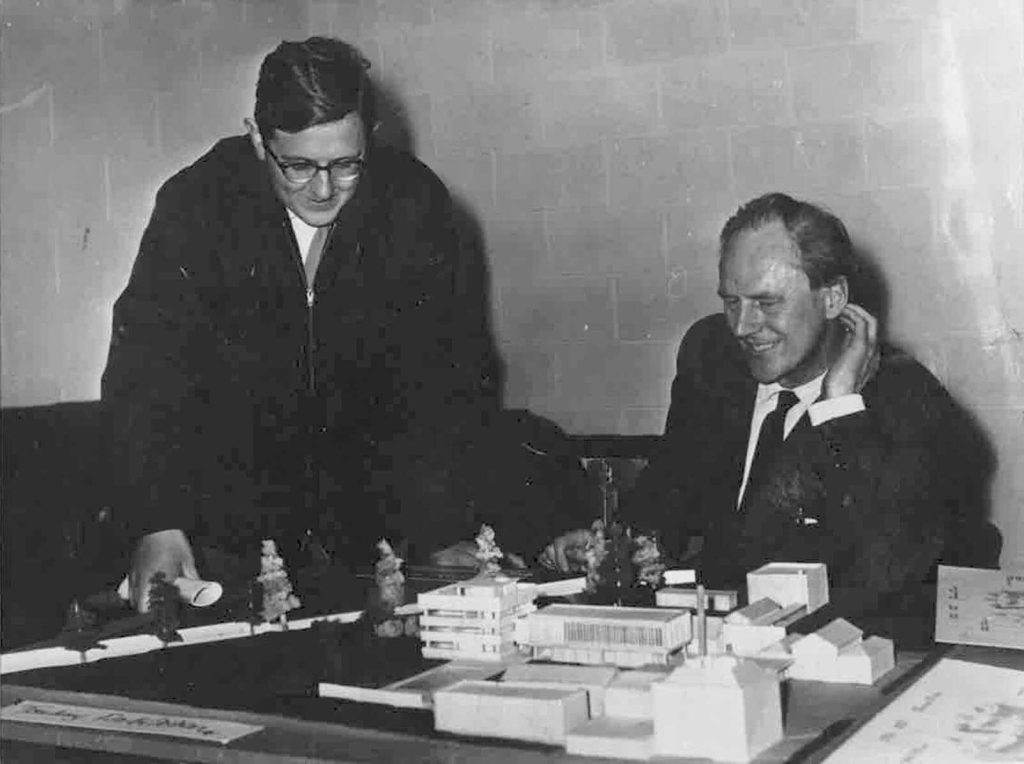 As an architect, Ronnie travelled to the four corners of Ireland with his famous flask of tea and a packed-lunch, prepared by his wife Betty – undertaking the design of buildings nationwide, developing an exceptional and expansive network of friends & colleagues. His impact, nationwide, is evident in hundreds of emails, messages of respect and wonderful stories of his past, received by his family, over the last weeks since his passing.
Through his Architectural Practice, his building designs have included all aspects of education buildings, offices, civic buildings, and a vast collection of religious buildings, including churches and convents – resulting in many of Ronnie's projects winning National, and Gold-Medal Architectural Awards. A few of his personal favourite accomplishments include two international museums – the Sisters of Charity's Mary Aikenhead Museum & Heritage Centre in Dublin, and the C.B.S. Edmund Rice International Heritage Centre & Museum, Mount Sion, Waterford City (which was also replicated in Australia). Other projects close to his heart, include the Masterplan & Design of the WIT College Street Campus, the 1998, and Waterford Theatre Royal Extension & Waterford City Hall Renovation, The Mall; New Kilkenny College; and Waterford South Eastern Cancer Foundation's Solas Centre.
Ronnie was a man of the people, most generous and very charitable – Fr. Pat Cogan OFM requests that it is publicly-stated, that were it not for Ronnie, many thousands of people would not have family homes today – as he was instrumental in the birth of the Respond Housing Association in Ireland.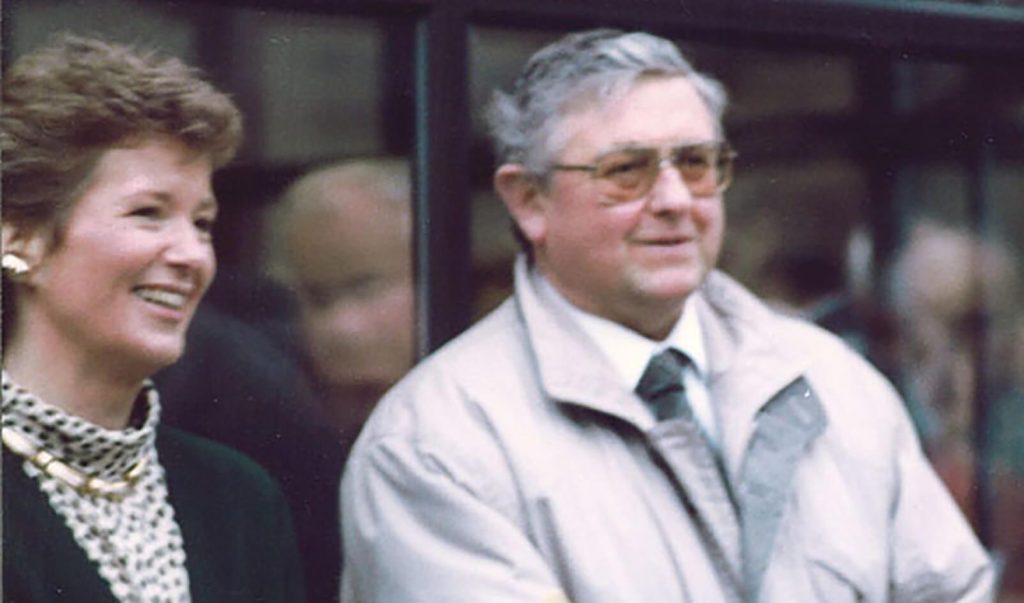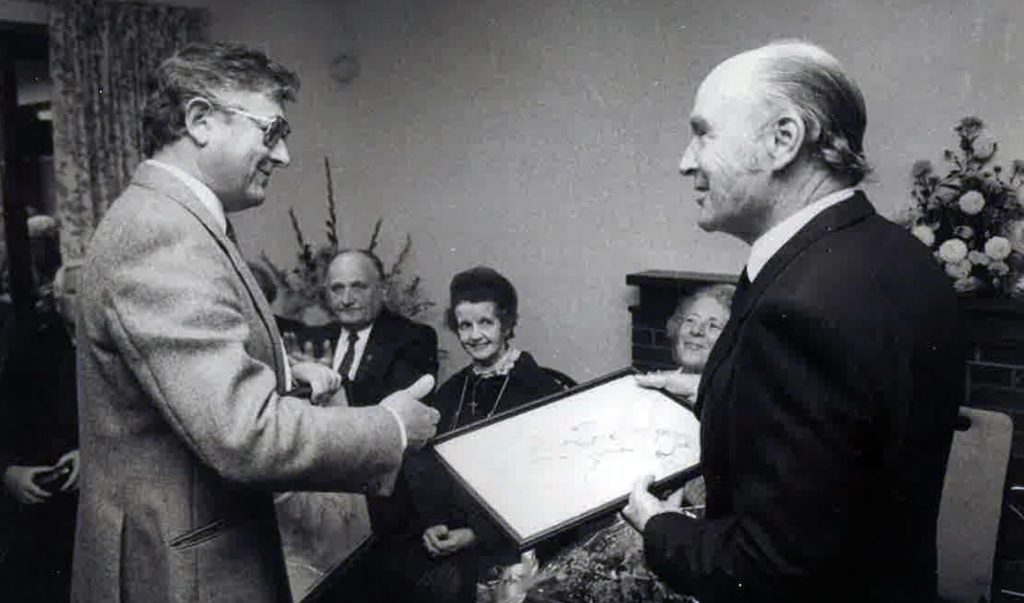 Ronnie's passing on of his architectural skills to the current Three-Generation Family Practice, brought him immense pride & joy; knowing that it has grown to become the largest architectural practice in the southeast of Ireland.
Ronnie always had Waterford to the forefront of his thoughts, and his philosophy of life, was based on the belief that you get out of life, as much as you're willing to put into it – and that you must take an active part in the community, in which you are a small part. During the 1970s, Ronnie designed, and helped construct, the De La Salle Scouts Training Facilities in Faithlegg, a playground at St. John's Park, and in later years, assisted Saint Vincent de Paul, O.A.S.I.S., the Solas Centre, Respond!, and several other charities.
Having also lectured part-time in WRTC (now WIT) up to 1978, Ronnie assisted in establishing the Architectural Engineering Diploma Course, as a recognised National Qualification – ensuring Students could study in Waterford, and he always actively encouraged young people to enhance their education, locally, where possible, in order to retain the talent in the region, and assist in the regional development of our city.
Earlier, in the 70s, his leadership and ambition, reactivated the De La Salle Past Pupils Union. Working with an excellent voluntary committee, they delivered the De La Salle PPU Centre, Stephen's St., Waterford. The Centre catered for squash, billiards, badminton, bridge, adult-education, and career-guidance – resulting in numerous past-pupils achieving employment in Waterford City, and nationally. An exciting time, resulting in major fundraising-drives, such as the De La Salle Car Draw, 'Mick Delahunty' Band Dances (with 800 people in attendance), and opening the Centre in phases. Phase 1 was opened by his good friend, and De La Salle past-pupil, Val Doonican (who Ronnie would later design a house for in England); and Phase 2, by DLS past-pupil Gilbert O'Sullivan. The Centre subsequently held an exhibition of squash, by two World Champions – Jonah Barrington, and Cam Nancarrow.
Going from strength to strength, Ronnie, with a fantastic voluntary committee, led the National De La Salle Past Pupil Union on organised pilgrimages, and papal-audiences to Rome, and also separate visits to Prague, and Vienna, with each trip containing hundreds of people (well ahead of today's package-tours). Indeed, this culminated in the beatification of De La Salle Br. Miguel, in 1977 – a massive event, involving the hiring of a jumbo-jet, and two 737 aircrafts.
Following his Proud Moments of Leadership as President for the De La Salle Past Pupil Union – 1971-73 – Ronnie subsequently took over the ownership of writing the De La Salle Notes Weekly, which always contained select humorous articles, in addition to the more informative notes for the Club.
Ronnie was an avid sports fan. From an early age, he was a fit and energetic youth, with a great love for sports, including 'soccer'. His involvement with the sport was a driving force behind establishment of the Southend Soccer Club, for which he was a Founder, and for who he played full-forward. He was also as a Founder, and major supporter of the DLS Soccer Club – and he was also involved in the Waterford Junior League, as well as the redevelopment of Ozier Park in 2009. A dedicated lifelong follower of Waterford F.C. 'the Blues' – Ronnie's passing coincidentally occurred on the evening of Waterford F.C. being elevated to the first division – something that would have brought him such pleasure! In a tribute to Ronnie's dedication to the sport and his team, a minute's silence, was held for him at the match, by Waterford F.C. on Friday the 29th of September – what a honour!
In the 1950s, Ronnie met Betty, his wife of 56 years, in his youth – when the world ran at a slower pace. They enjoyed an idyllic 'coming of age' with a truly wonderful group of friends. They enjoyed being members of the DLS musical society, dancing, or going to the cinema, in the Coliseum, or the Savoy – and later in life, many a meal during evenings in the Haven Hotel.
As an active youth, Ronnie was the original 'iron-man', well before the commencement of that trend. It was not unusual for him to cycle to Tramore, play a game of soccer, swim Tramore bay, cycle home, and then dance in the Olympia with Betty – often joking that their dancing was 'poetry-in-motion'.
Indeed, in 1954, Ronnie cycled 180 miles to Valentia Island, off the coast of Kerry, to visit his love Betty, who was holidaying on the island. So, began a tradition of the extended family of four generations subsequently retreating there each year since, to enjoy fishing, walking, swimming, and the smell of turf fires. Ronnie yearned to visit once more in recent years, but sadly his illness prevented a final trip. However, the island and the beautiful memories of years passed will live on with his family, and with future generations of the family to come.
Back in Waterford, a large part of Ronnie's early family years where spent at his home in the Folly – it was a wonderful community of young families, where his children grew up. Being the Architect of the development, which Ronnie designed, and was built in 1963 – undertaken by the Urbs & Intacta Building Society – a housing-cooperative, a first for its time, and a similar potential solution to today's housing crisis. The bungalows were priced at costly sum of £2,800 and the two story homes a whopping £3,100. Ronnie's gifted ability at design and 3-drawings, were streets-ahead of the contemporary computer technology of the time. For the Folly project, Ronnie's approach at Design Stage, was to layout the house plans to full-scale on Tramore Beach, and convinced in or around 20 couples to walk the corridors of their new homes and lay down in their beds – all set out upon the strand, which were washed away as the tide drew in.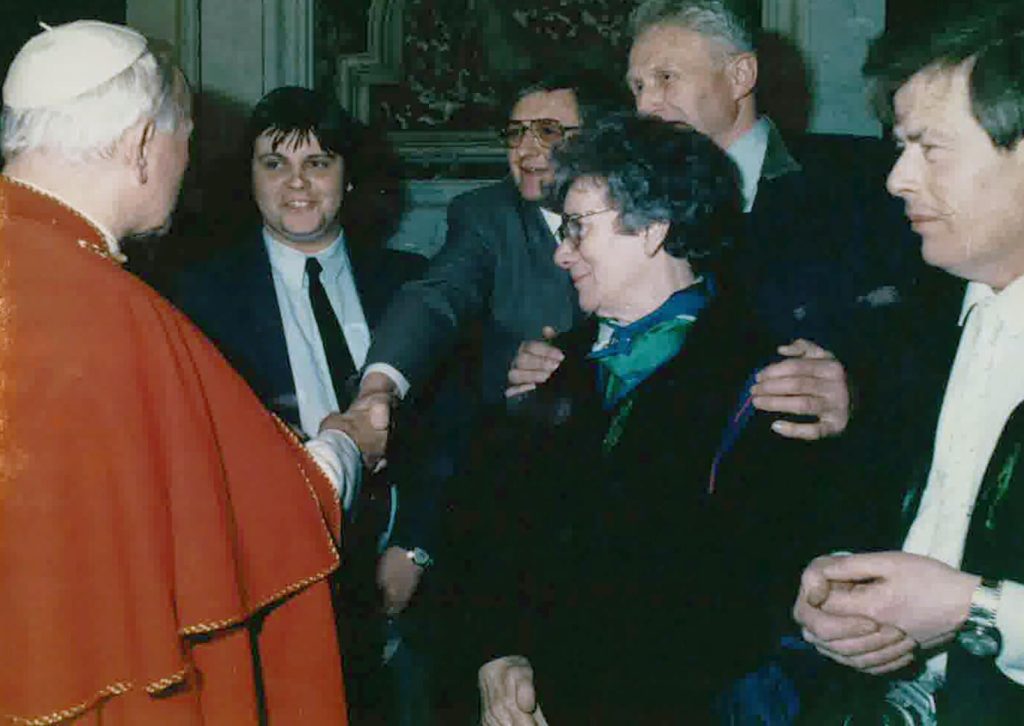 In later life, Ronnie & Betty built a new a new home in 1998, in his beloved Farronshoneen – were he spent his remaining years. A modern, one bedroom, light filled home surrounded by his well-tended, serene and loved gardens, Ronnie & Betty planted every tree and plant by hand on the site turning it into an oasis in an urban environment. Here, Ronnie had time to reflect on wonderful moments in his life, including some of his proudest meetings: meeting Pope John Paul II in-person, in 1989, and having dinner along with his wife Betty, with Charlie Bird, and President Mary McAleese, in Aras an Uachtarain (one of three presidents he shared company with over his professional life).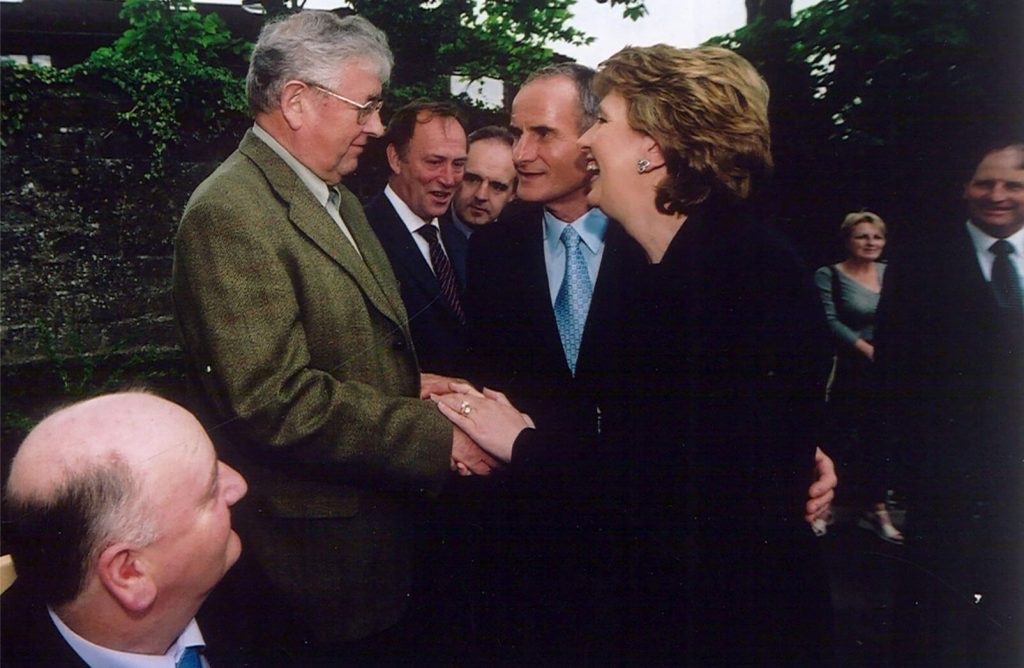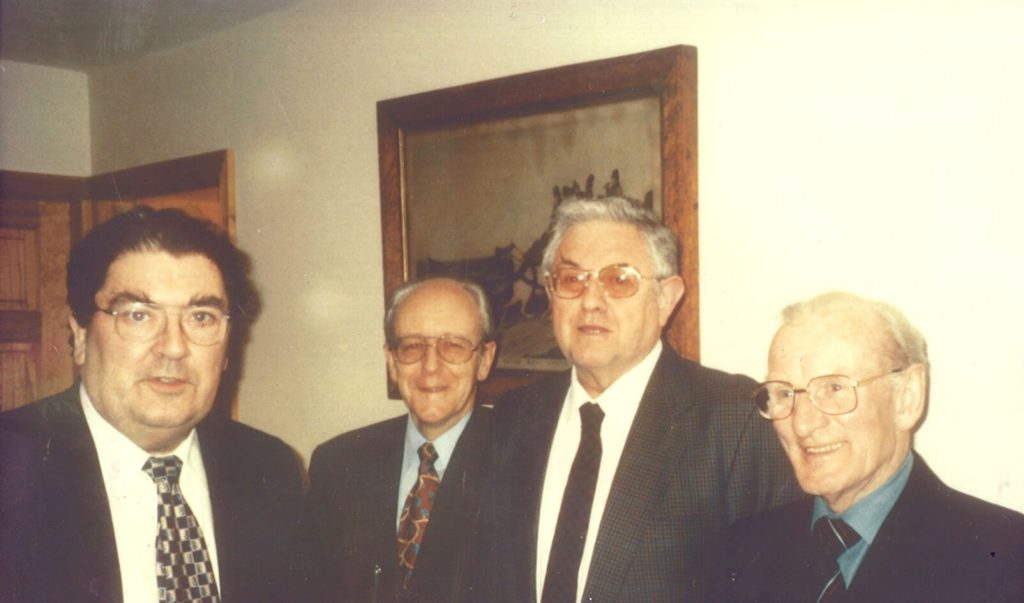 Ronnie's life was active and full – until it was cut short by the debilitating medical condition of Parkinson's and the associated falls and illnesses that accompanied that condition, for the past 10 years. Ronnie, for his part, bore the burden of the illness with strength, humour, and dignity.
The family would like to express their sincere thanks to the staff of UWH, Ronnie's wonderful Home Care team, Waterford Hospice Care, and his ever-on-call friend, Dr. Sean McBrinn.
Ronnie, and his entire family were so grateful that he had the opportunity to return home to the wonderful oasis in Farronshoneen – to his final resting place – in the autumn of his life.
This note, is but a small flavour of this wonderful, Waterford man, and architect, now laid to rest in St. Mary's, Ballygunner – a man of all things, to all people.